Author Alix Barrett + Trevor Ferguson | Teak + Table Outdoor / Category Outdoor Furniture / Published: MAR-27-2020
Let's talk about outdoor lounges. Chances are you've longingly stared at pictures of outdoor lounge spaces dripping with palm trees and frozen drinks and thought: why can't I have that? You can! How? Grade A outdoor teak furniture. (Specifically, a sofa and two club chairs.)
What Is Outdoor Lounge Furniture?
Outdoor lounge furniture refers to any type of outdoor furniture specifically designed for relaxing. Think club chairs, a sofa, an ottoman, a pouf, or even a loveseat. Simply put, outdoor lounge furniture is designed for lounging. Your home should be a place where you can relax and outdoor lounge furniture helps turn your outdoor space into your outdoor escape. Utilizing outdoor lounge furniture gives you an additional living space, allowing you and your guests to create multiple areas where you can hold conversations, have a cocktail, or just kick your feet up. Teak + Table makes finding an elegant outdoor lounge set easier than ever, just shop our collections!
What Exactly Is A Club Chair?
A club chair is simply an oversized chair meant for lounging and relaxing. We are big fans of club chairs because they can be placed in any arrangement and still look good. Group four around a firepit, group one at either end of a sofa, or place them in groups of two in between larger pieces of furniture to create intimate chat settings. Our armless club chair will go great in any situation!
Sofa Vs. Loveseat
A sofa seats at least three people while a loveseat only seats two. Sofas also tend to be long enough to allow you to lie down on them, while loveseats don't afford you that same luxury. You can fit multiple people on a sofa without everyone having to sit next to each other. With a loveseat, you're sitting next to someone whether you want to or not. (Loveseats can even be so small that you may only be able to comfortably fit one person on them.) Our loveseats, sofas and lounge sets offer both versatile and stylish outdoor seating options.
Footprint Needed for Lounge Furniture
There isn't much difference between the footprint needed for a sofa and two club chairs versus that for a loveseat and two club chairs. Our sofas and loveseats are the same depth (no difference in footprint needed there) and the standard sofa is approximately 24 inches longer than a loveseat. Unless you are constricted by tight spatial requirements, we are always going to suggest a sofa over a loveseat for a multiple-person seating option.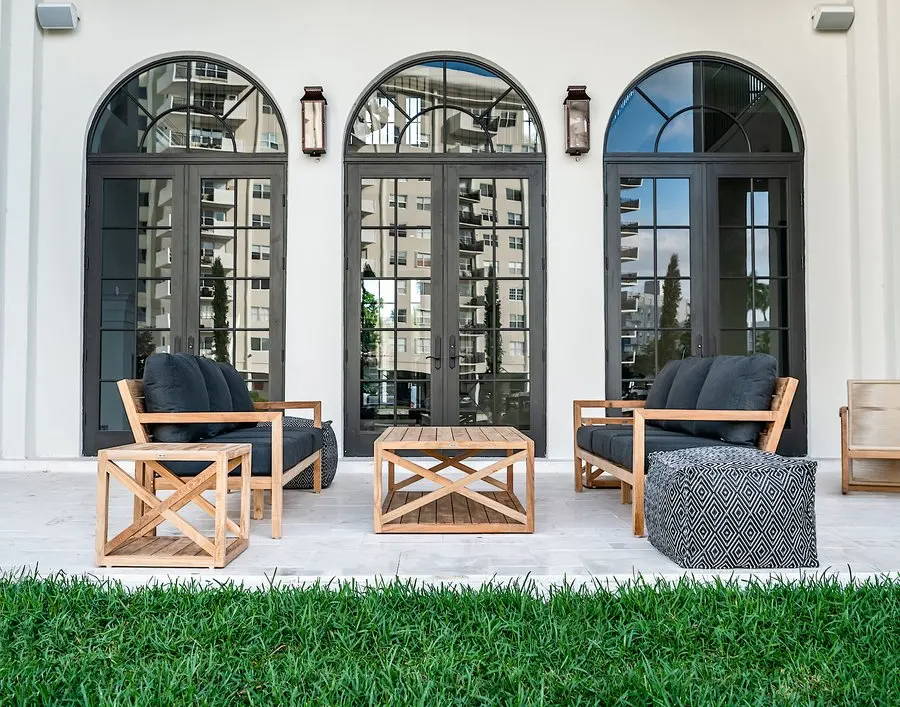 Minimal Price Difference
There also isn't much price difference between our sofas and loveseats when you consider what you're paying to gain an entire extra seat. Our sofas are typically only two to three hundred dollars more expensive than our loveseats, making our sofas even more affordable for your outdoor lounge needs and a better buy in the long-run when you look at what you get for the money.
Why the World Likes More Seating
Loveseats first came about in the seventeenth century as a place for women to sit while wearing large hooped skirts (meaning the loveseat was created as seating for just one person). As we don't wear hooped skirts on the regular anymore, we've switched to comfortable club chairs and sofas for seating options. The loveseat has stuck around throughout the years and is actually a great option if you simply don't have the space for a sofa. We get it: not everyone is always going to have the space needed for a full-sized sofa and this is why we offer our loveseats! However in recent years, larger sofas and sectionals have become more and more popular as people choose to spend more time living as well as entertaining in their homes. While we offer both teak sectional outdoor furniture and loveseats, we are big fans of the sofa and two club chairs arrangement. Hear us out. A sofa and two club chairs provides five comfortable seats in three pieces of furniture for less than the price of a typical sectional (which provides you the same number of close-together seats in only one piece of furniture.) An outdoor furniture set with a sofa and two club chairs is also a great value. A sofa and two teak chaise lounge chairs looks like a more complete room when placed outdoors and really helps bring the homey feeling of your indoor space outside. Having multiple pieces of seating (i.e. sofa and two club chairs) also allows you to incorporate different materials and textures into your outdoor lounge area.
Mixed Materials
Mixing materials is a trend that we believe is here to stay. We love that you now see teak and rope outdoor furniture or teak mixed with wicker and even cast stone. We believe this mix of materials makes for more personalized spaces and keeps your home from looking too sterile. Here at Teak + Table, we're big fans of mixing our teak with more modern materials such as rope and concrete. (Personally, we like to mix our rope chairs with a teak sofa and concrete fire table for a fresh, cohesive look.)
Benefits of the Sofa + Two Club Chair Arrangement
We're not trying to beat a dead horse here, just educate our customers while providing you the best value possible. The sofa and two clubs arrangement also provides you the greatest flexibility in terms of seating. By utilizing a sofa and two clubs, you can place the club chairs anywhere in relation to the sofa while still achieving visual balance. Place one club chair at either end of a sofa. Place both club chairs on one side with a large coffee table in front. Have multiple outdoor spaces? Place the sofa in one spot with a coffee table and the two club chairs with a small chat table between them.This particular seating arrangement also provides you the greatest flexibility as it is easy to adapt with spaces in between doors, windows, and anything else that may otherwise be obstructed by large, singular pieces of furniture.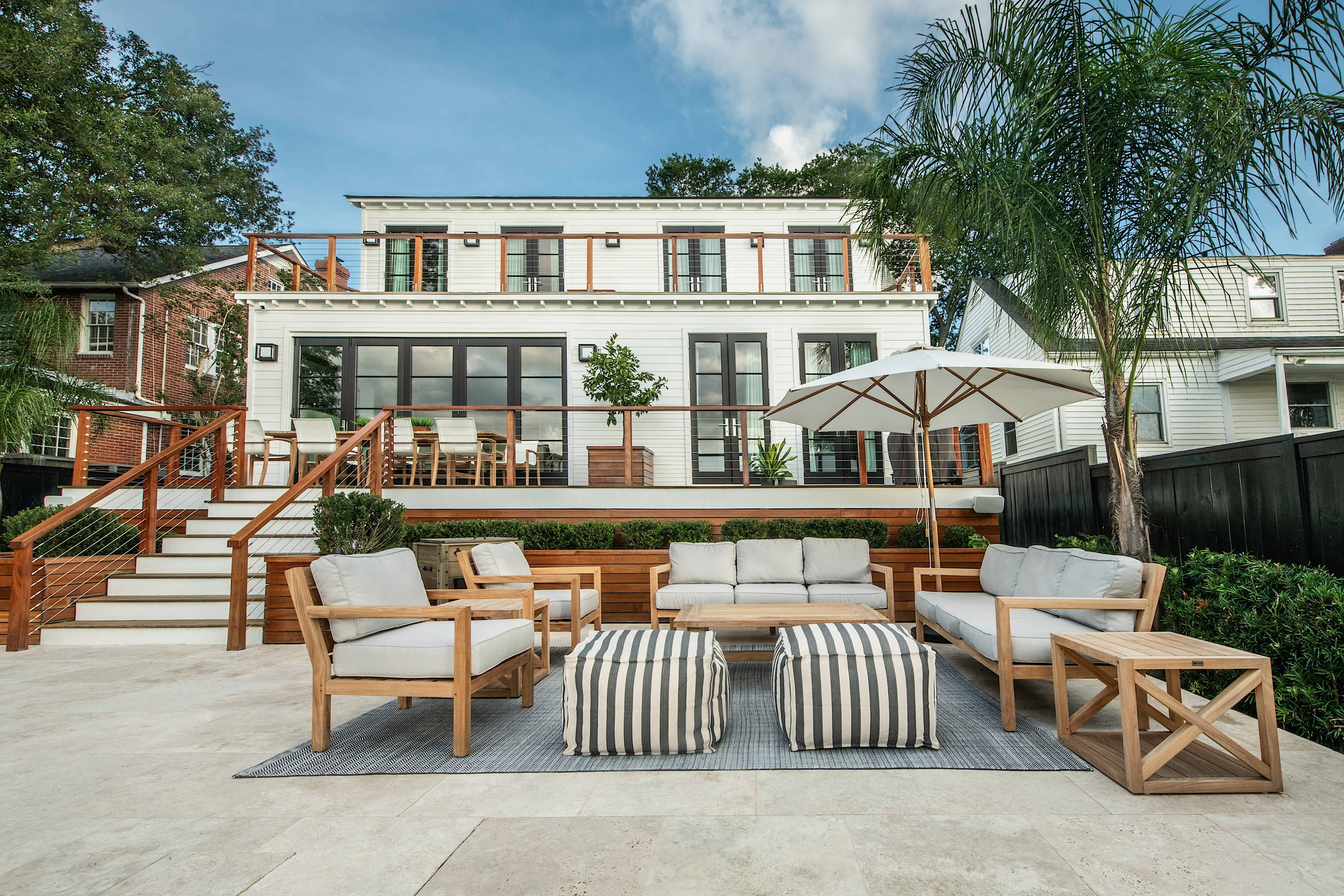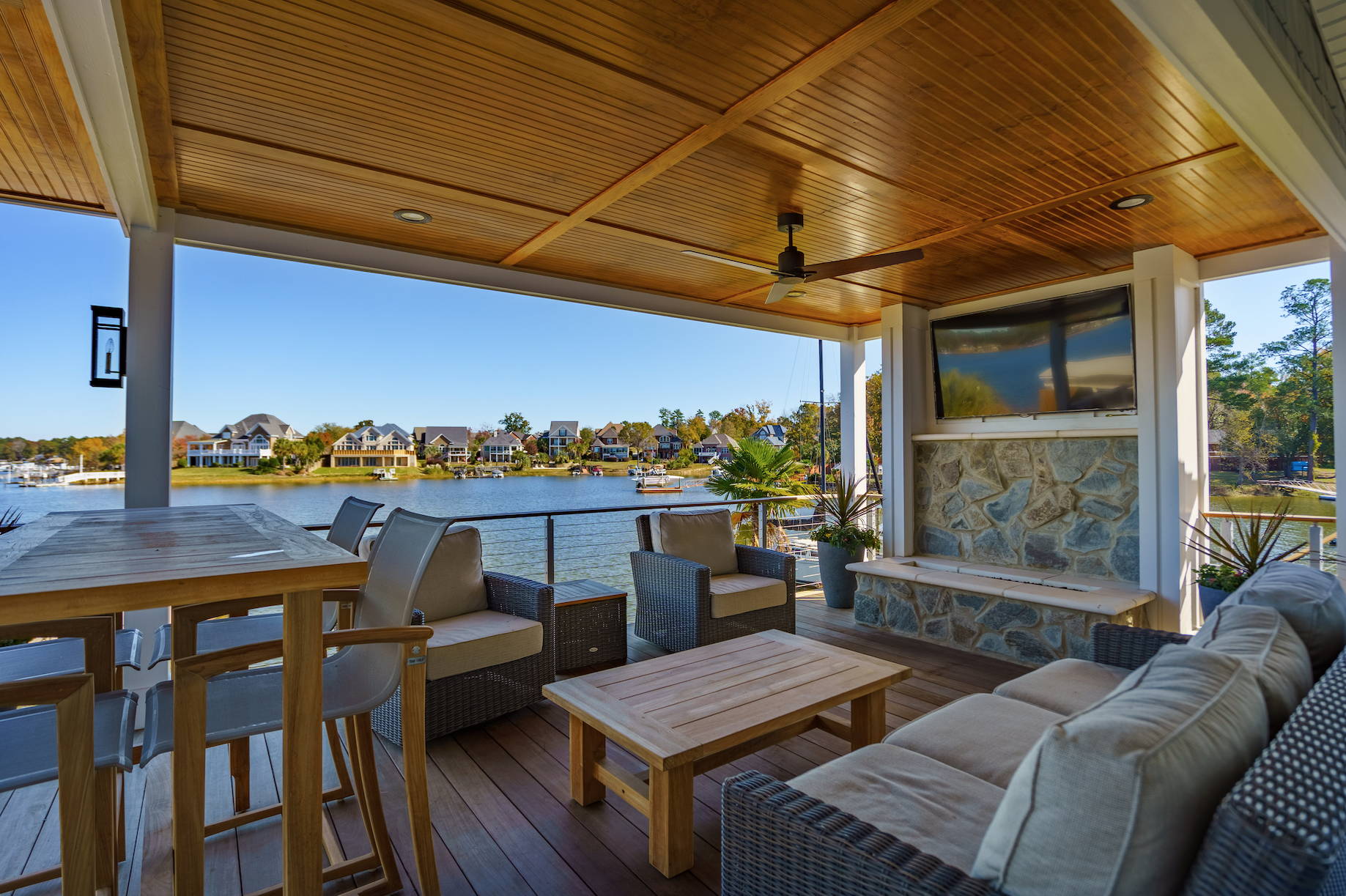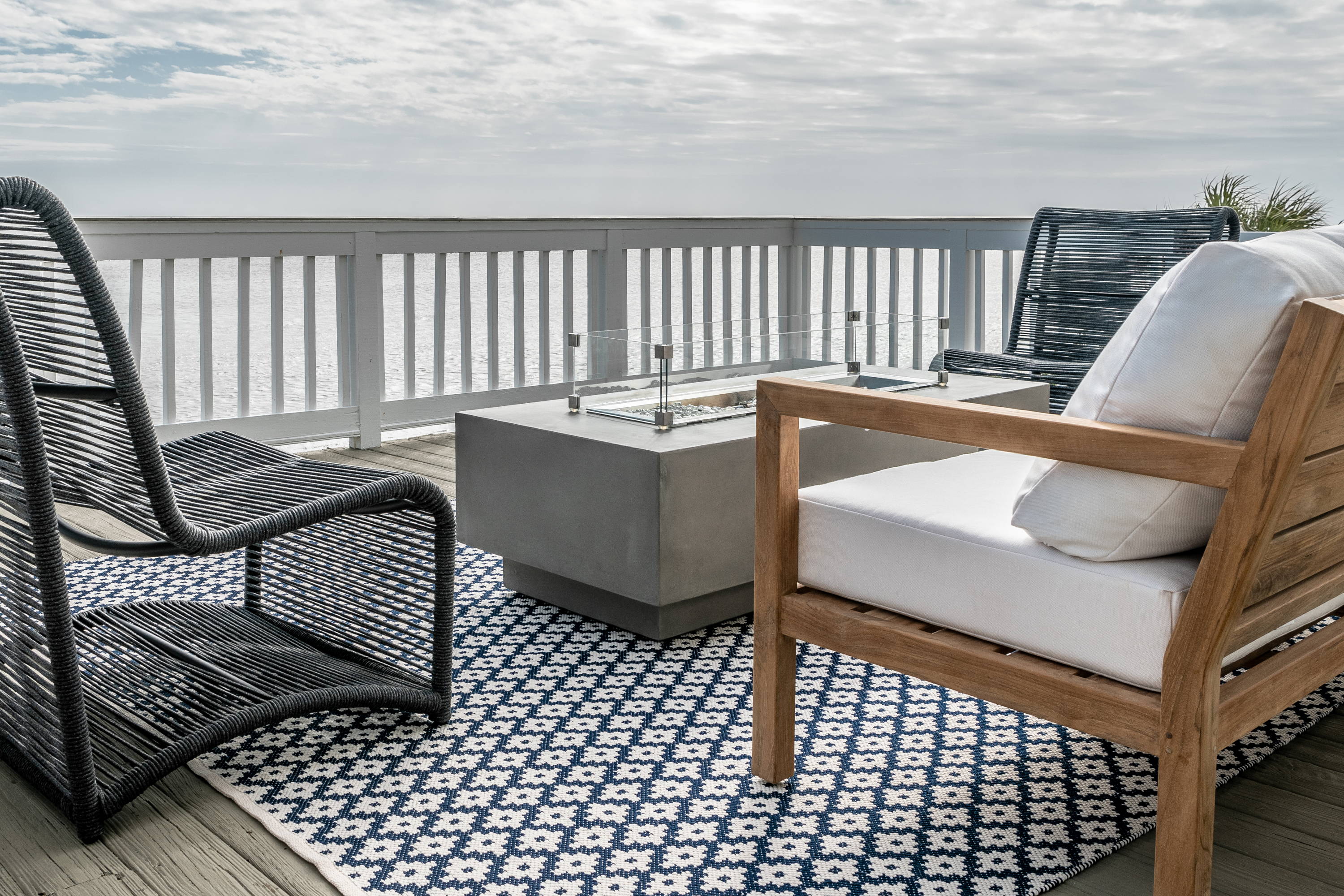 Benefits of Buying Outdoor Patio Furniture Factory Direct
We produce all of our own furniture and deliver it to you without any middleman. When our products leave our factory, the next people to touch them are our delivery team in South Carolina. This means you get a higher quality product at a significantly lower price point. When we place orders with our factory, we order 200 club chairs for every 100 sofas. We anticipate people to purchase a sofa and two clubs because we know this arrangement is popular and provides our customers the most seating flexibility. This order arrangement also means we are able to give you the lowest price possible for buying a sofa and two clubs because our manufacturing and shipping systems are set up specifically to handle this seating arrangement at the lowest possible price point. Take advantage of dealing directly with the factory and buy from Teak + Table. We promise it's the best deal you'll find on grade A, high quality teak furniture.  
Another benefit of dealing directly with the factory? All of our lines are part of our permanent collection. This means they've been produced for years and will ALWAYS be available for purchase. So if you move to a new home with a larger outdoor space in ten years, you can purchase another sofa to add to your collection. Like the idea behind a sofa and club chairs but just need more seating? Purchase two sofas or even two sofas and four clubs. This balanced seating arrangement provides you the most flexibility and gives your guests plenty of space to spread out. Again, all of our lines are permanent so you never have to over-buy. You can always add to your outdoor furniture collection down the road without worrying if your future furniture will match. Watch Our Factory Tour Video
Design Flexibility
Another benefit of working with Teak+Table is our design flexibility. Don't like individual cushions on your sofa? No problem. We have our own cushion factory that can easily make you a bench cushion at no additional markup. Want to add throw pillows in a coordinating fabric? Easy. Again, by having our own cushion factory we are able to quickly and affordably create anything you can dream up for your outdoor space.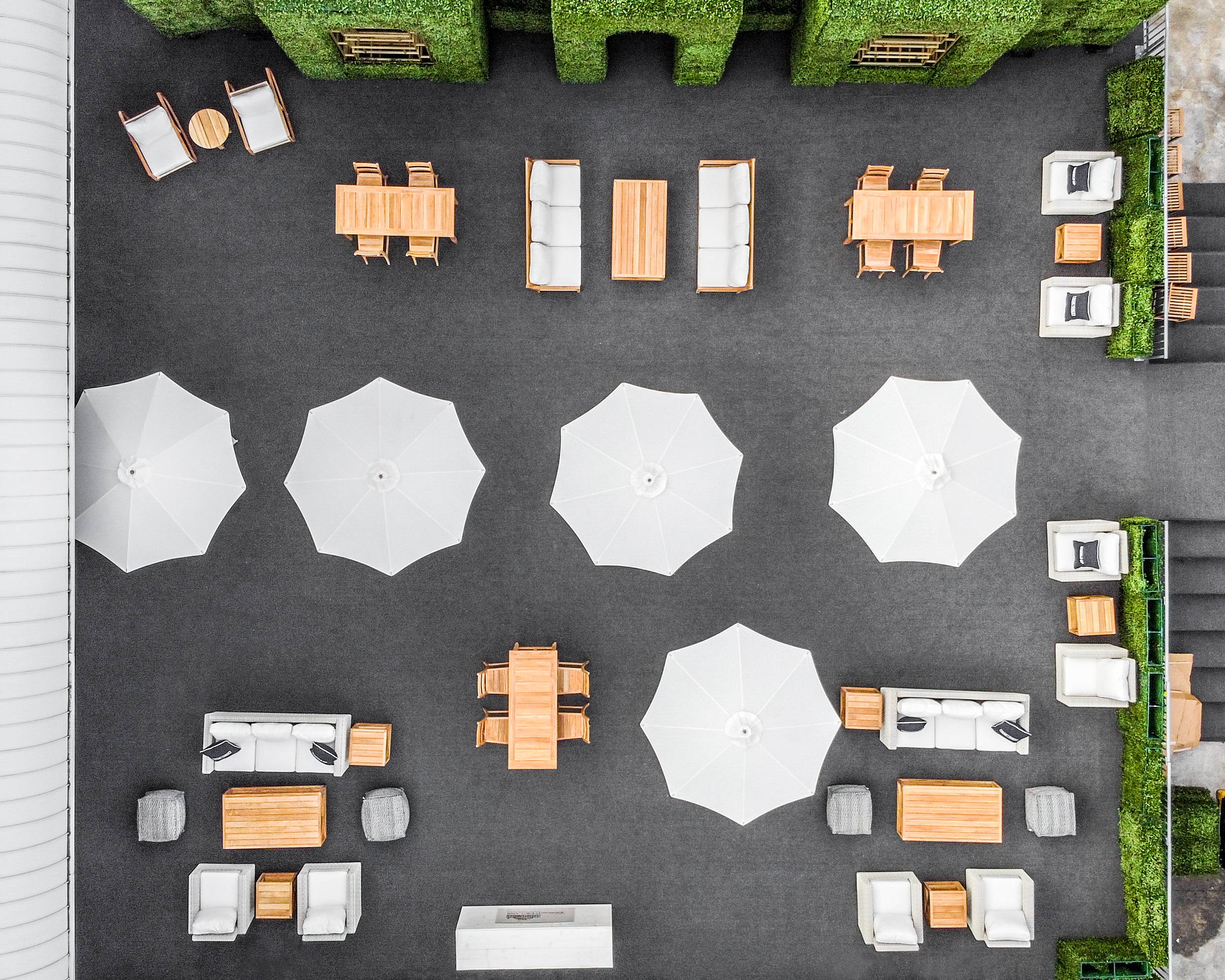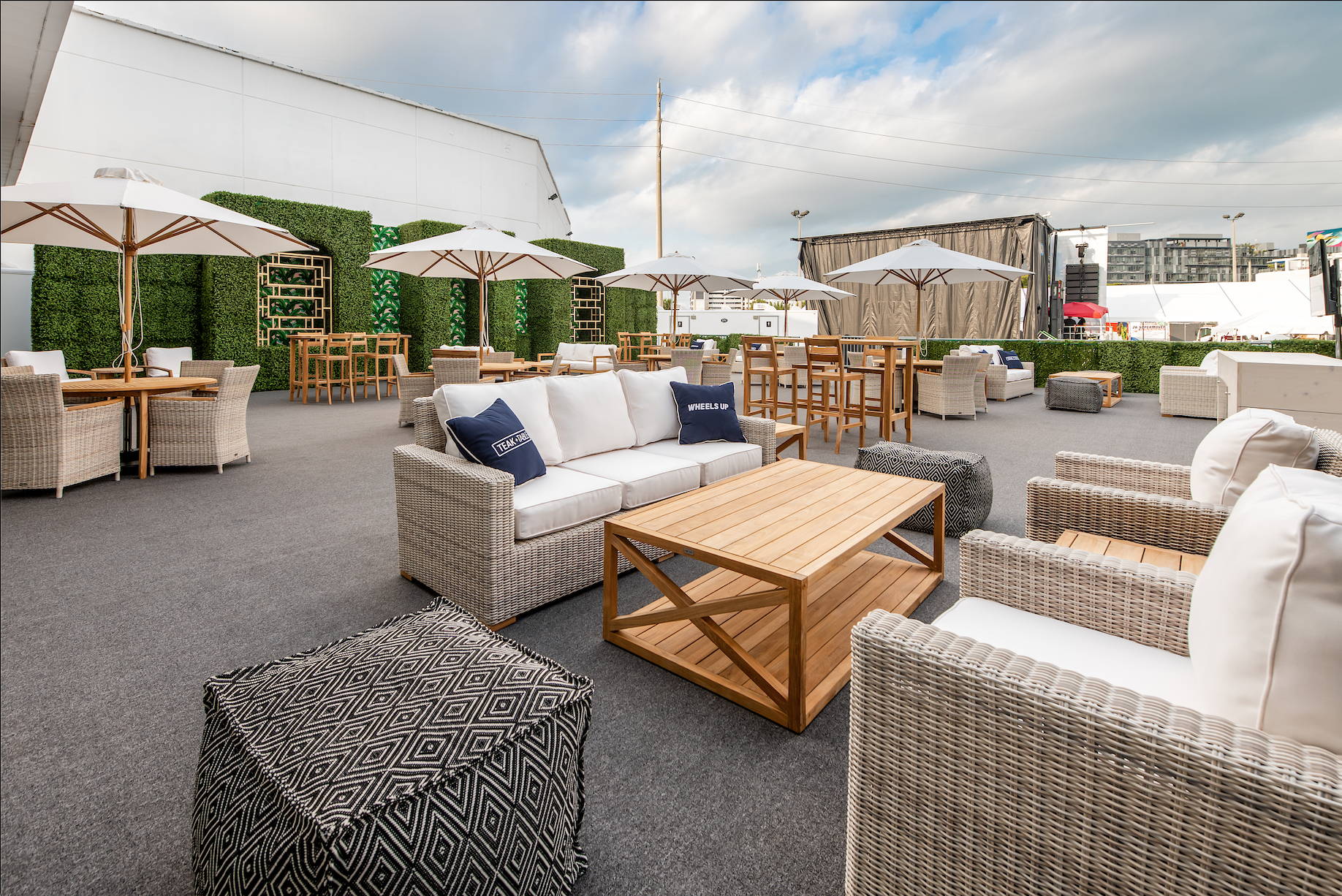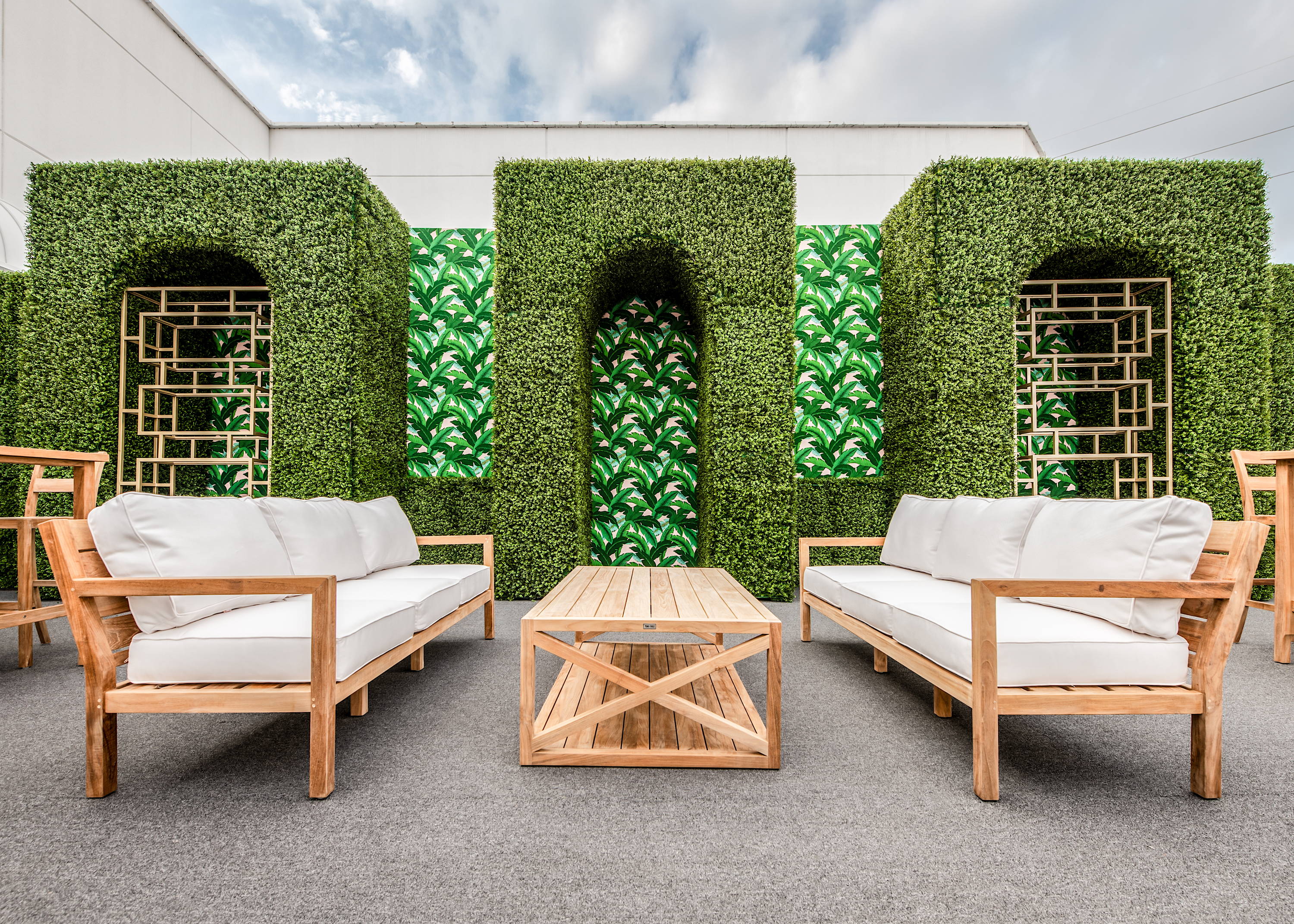 The Changing Outdoor Furniture Landscape
Outdoor dining furniture used to account for 70% of all outdoor furniture sales because people wanted a more casual place to entertain and wanted to take their dining outdoors. Now, outdoor lounge furniture accounts for 70% of all outdoor furniture sales. Outdoor dining sales have not dropped off, rather outdoor lounge furniture has just become that much more popular. People are now looking to utilize their outdoor spaces as secondary living and entertaining spaces. Perhaps you now watch the game on your outdoor TV from your outdoor sofa instead of from inside your den. People now congregate for cocktail hour outside instead of in your formal living room. Living and entertaining has become more casual in the 21st century, meaning it's easier than ever to take the party outside.
Not sure where to start? Check out our sofa and chair sets to that are available for purchase.
Need some design advice? Contact our showroom to get in touch with a member of our design team to point you in the right direction. As always, we're more than happy to help you create your perfect outdoor oasis.