How to Accessorize Your Outdoor Table for Post-COVID Get Togethers
Author Trevor Ferguson / Category Outdoor Furniture / Published: MAR-25-2021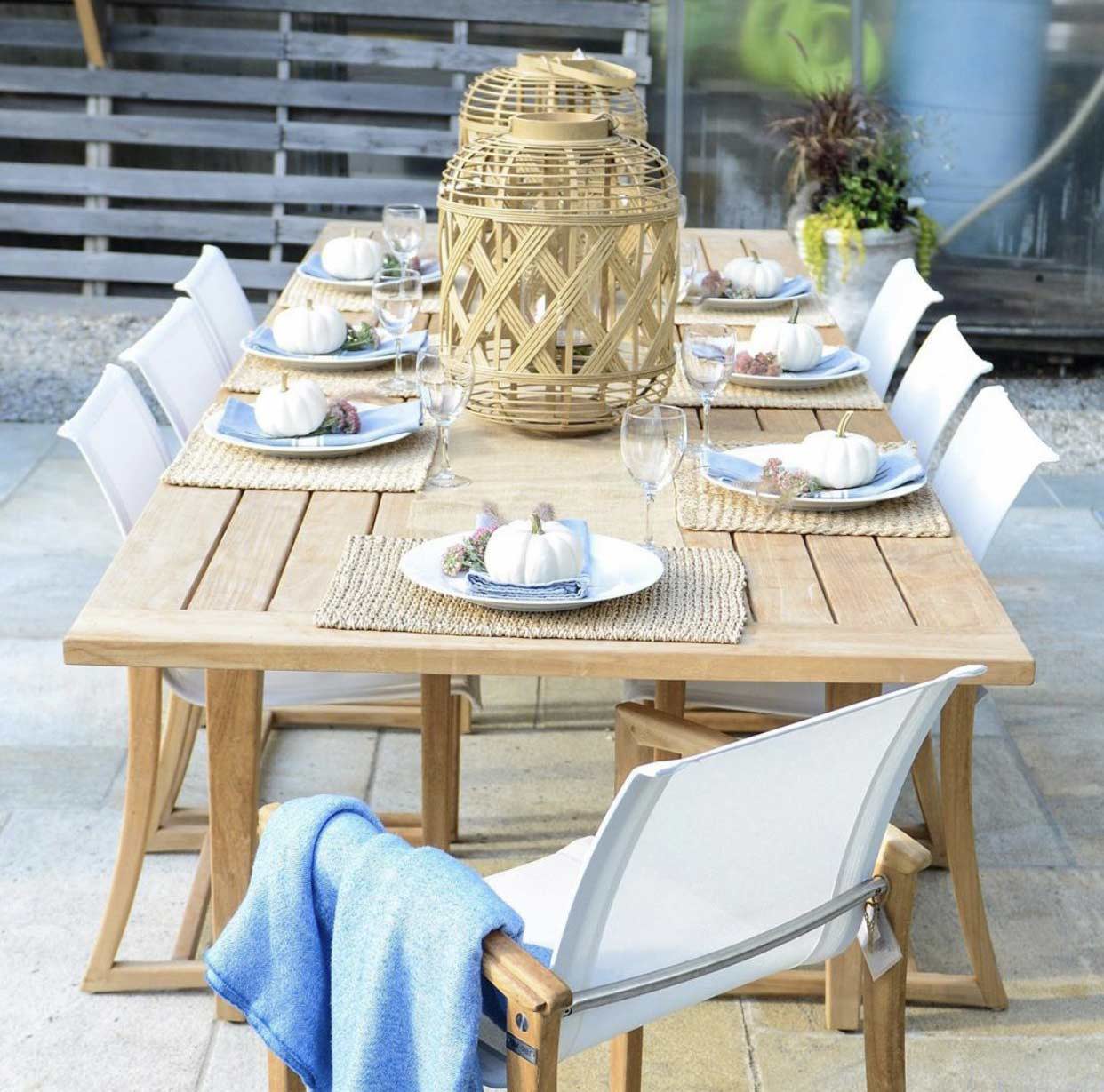 The vaccine is out, spring is here, flowers are blooming, and soon enough, social gatherings (with plenty of hugs, please) will resume. What better way to celebrate and enjoy your newfound health and the arrival of gorgeous weather than with a little al fresco entertainment? Round up your friends, family, neighbors, heck even that one you don't really like but haven't seen in a year, and gather round your outdoor dining table for a good old-fashioned dinner party!
Before we get into the details of how to accessorize your outdoor table, let's talk about the actual table. The most important part of any outdoor set-up is starting with a great base and for us, there's no better investment than a teak dining table.

A grade A teak dining table will last for decades and will never go out of style. Some of our favorites are: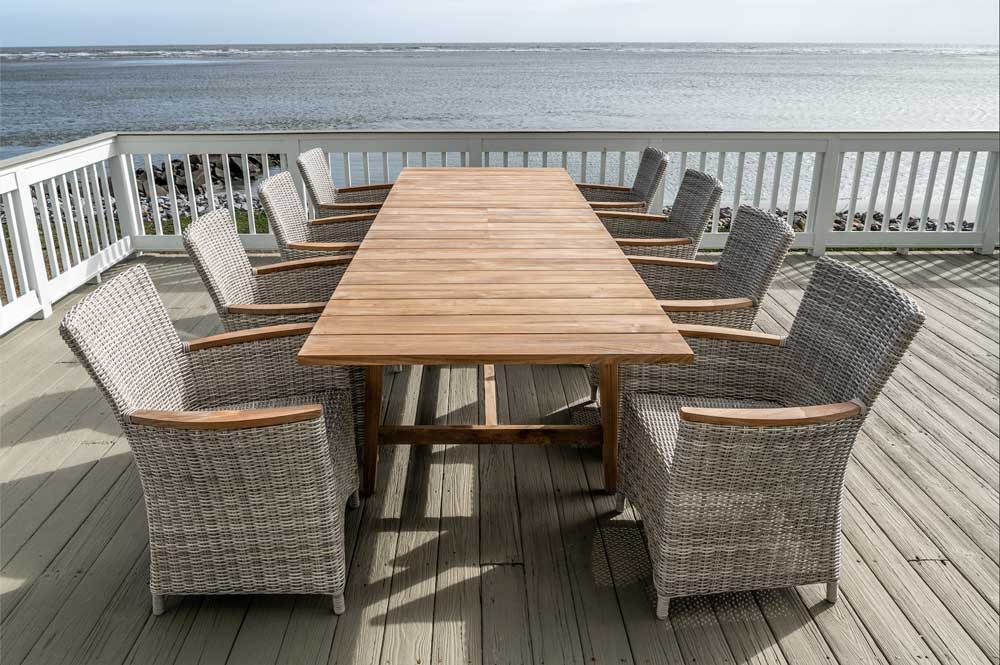 Pictured Above: The Capri Extend Table with matching wicker chairs - the perfect all-weather teak dining table.
With your base selected, let's jump into the details! Below, we're breaking down what makes a great outdoor table and how you can put one together to create a memorable night.
Layer Your Lighting
You've probably heard that no one looks good in fluorescent lighting but did you know there's a little thing photographers refer to as the golden hour? The golden hour is the hour at sunset every day and is considered universally flattering because it makes everyone look their best. Keep this in mind and utilize any outdoor light fixtures, add a string of overhead lights, add in a few lanterns to light the outdoor path for your guests, and add tabletop candles to converse over.

Add In Textured Touches
Your guests have had a rough year so make them feel at home with thoughtful touches like throw blankets for that evening chill and comfortable seats that they won't have to worry about getting dirty (like our best-selling Capri Dining Chairs). Even take this a step further and have an appetizer spread out for your guests when they arrive. (We're big fans of utilizing our Console Table for this - a true workhorse of a piece. Also use this as your bar and set buckets of ice on it.)

Utilize A Centerpiece
Even if it's the bottles of wine you're serving. Everyone loves a good centerpiece so give your guests one to wow them. If you're using our Farmhouse Dining Table or any of our Family Expansion Tables, you have a built-in umbrella holder. Pop a colorful umbrella in, open it up, and string some rope lights to transport you and your guests to an island getaway. Don't have an umbrella holder? Don't sweat it. Something as simple as bottles of wine down the table makes a great (and useful!) statement.

Don't Use Scented Candles
Just trust us - no one wants to smell cinnamon sugar when they're trying to eat a steak. Utilize flameless LED candles to set the mood or unscented white pillar candles.
Have The Perfect Playlist
Even if it's just from your phone or your portable Bluetooth speaker, be sure and have a playlist that pops. Some of our favorites can be found on Spotify.

Create Your Ultimate Outdoor Gathering Experience With Teak + Table
Perhaps no one is more excited than we are for people to be able to safely gather again. We love helping our customers create their ultimate outdoor retreat and love even more when they're able to use it! Here's to many long nights gathered around teak tables with friends in the not-so-distant future!
0 comments